Regular price
Rs. 399.00
Sale price
Rs. 359.00
Unit price
per
Sale
Sold out
Share
Free shipping on orders over Rs.500/-
Fast & Secure payment methods
Round-the-clock support available anytime
View full details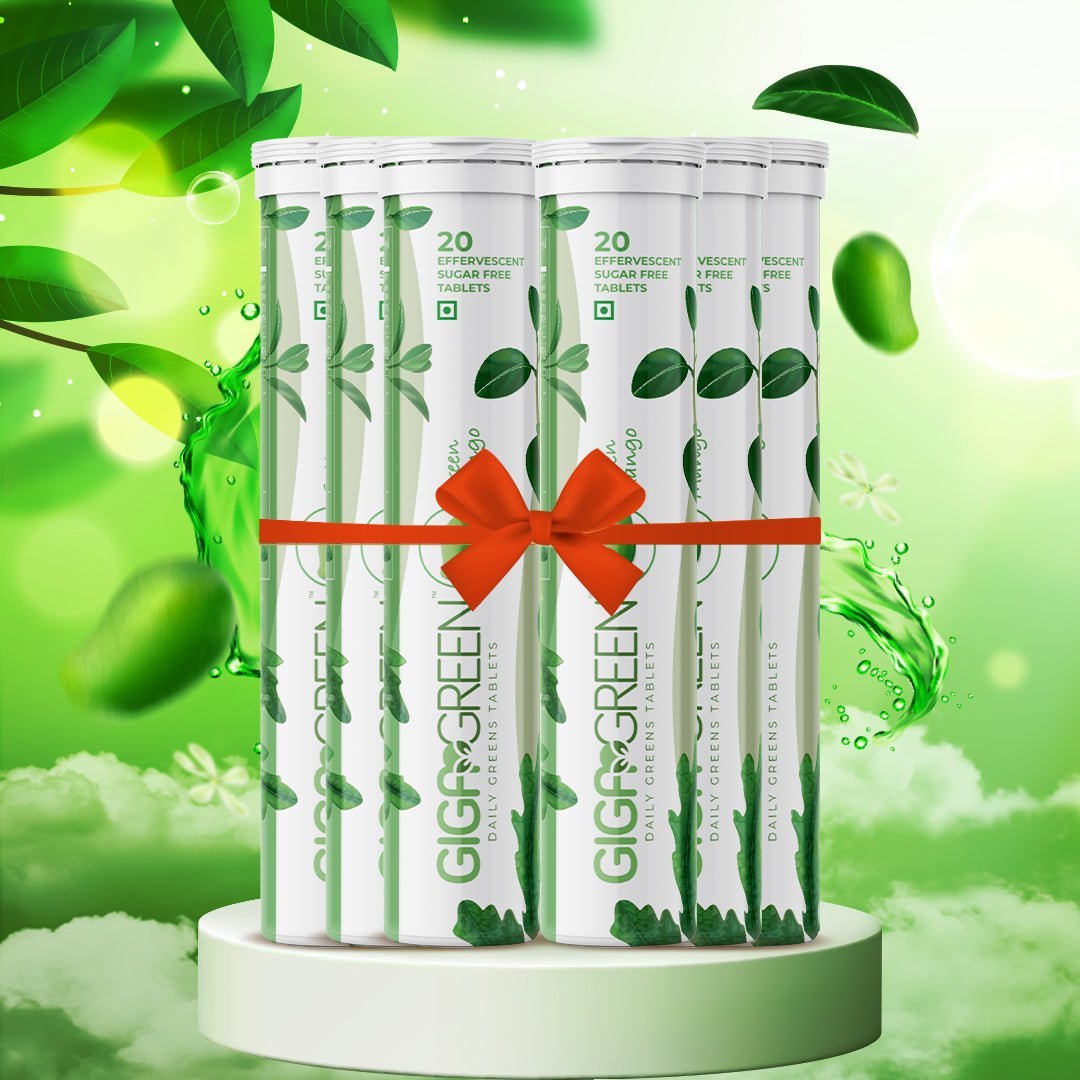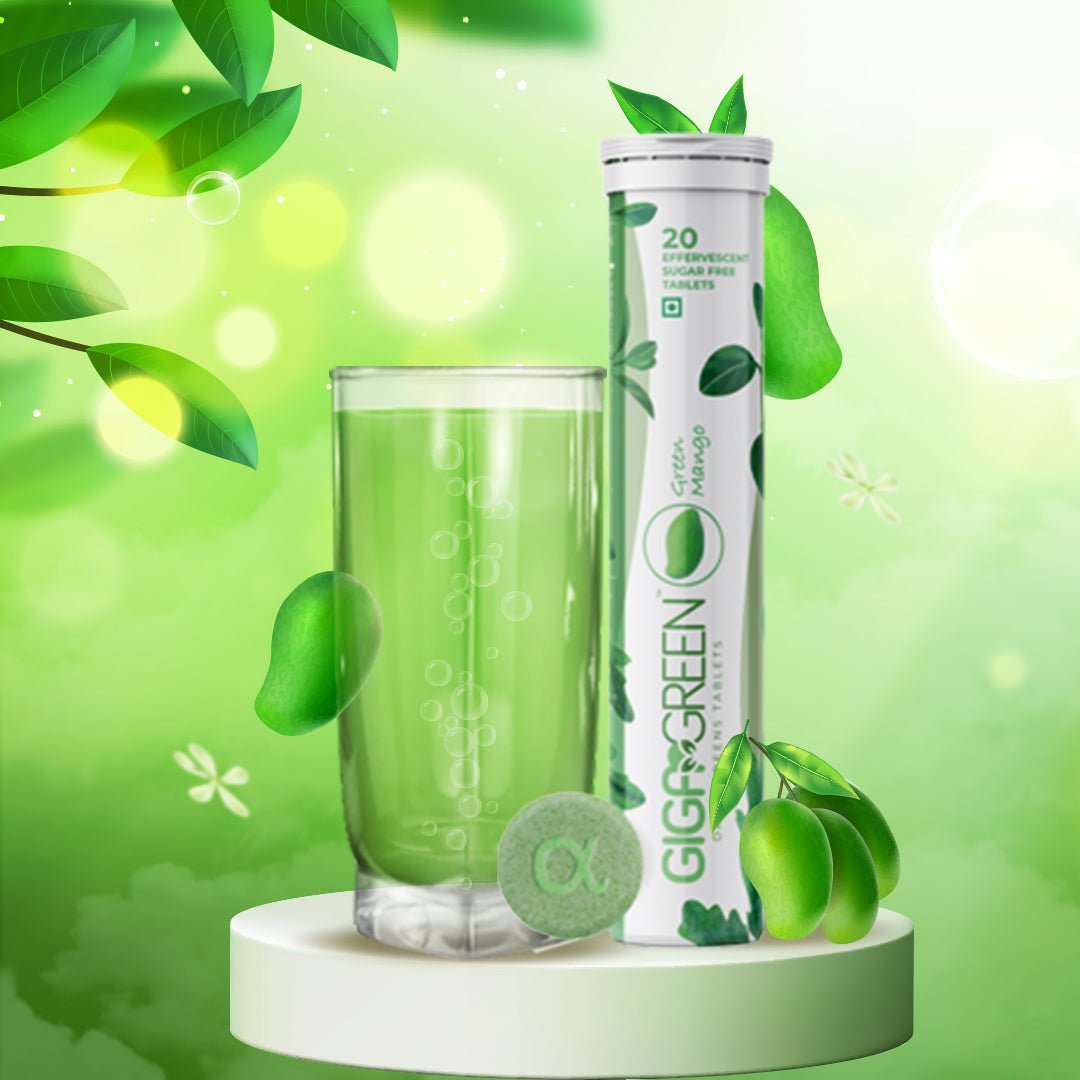 • Boost Your Immunity: Strengthen your body's defense against illness and infections.
• Antioxidant Powerhouse: Protect your cells and prevent diseases with a rich source of antioxidants.
• Weight Loss Support: Curb cravings and reduce calorie intake for effective weight management.
• Enhanced Stamina: Stay energized and active throughout the day with natural ingredients.
• Meal Suppressant: Manage portion sizes and control your appetite effortlessly.
• Boosts Immunity: Gigagreen's powerful blend of super greens strengthens your immune system's defense, helping you stay healthy and resilient.
• Rich in Antioxidants: Packed with antioxidants, Gigagreen shields your cells from free radicals, reducing the risk of chronic diseases and promoting overall well-being.
• Aids Weight Loss: Gigagreen acts as a natural meal suppressant, supporting your weight loss journey by curbing cravings and controlling your appetite.
• Enhances Stamina: Enjoy sustained energy throughout the day with Gigagreen's natural boost, helping you stay active and productive.
• Natural Meal Suppressant: Gigagreen's unique formula naturally suppresses your appetite, making portion control easier and aiding in healthy eating.
• Delicious Flavors: Choose from delightful flavors like Cumin Zinger, Lemony Lime, and Green Mango, making your daily supplement routine a tasty treat.
FAQs
GigaGreen are Daily Green Effervescent Tablets, which are a premium blend of essential nutrients and super greens in an easy-to-consume, effervescent form. They are designed to provide a convenient and delicious way to boost your daily intake of greens and vital nutrients.
GigaGreen Effervescent Tablets are crafted with a potent mix of nutrient-rich super greens, such as kale, spinach, wheatgrass, spirulina, etc.. Additionally, they are fortified with essential vitamins and minerals to support overall health and well-being.
Simply dissolve one tablet in a glass of water, and watch it fizz into a refreshing green elixir. Consume it daily as part of your morning routine or at any time of the day to stay energized and nourished.
Yes, GigaGreen Effervescent Tablets are 100% vegetarian and vegan-friendly. They contain no animal-derived ingredients, making them a perfect choice for individuals following a plant-based lifestyle.
No, GigaGreen Effervescent Tablets are free from artificial additives, sweeteners, and preservatives. We prioritize using natural ingredients to ensure a wholesome and pure supplement.
GigaGreen Effervescent Tablets are formulated to complement a well-balanced diet. However, if you are currently taking other supplements or have specific health concerns, we recommend consulting with your healthcare professional before adding GigaGreen to your regimen.
GigaGreen Effervescent Tablets are suitable for adults of all ages. However, if you are pregnant, nursing, or have any pre-existing medical conditions, please seek medical advice before starting any new dietary supplement.
Yes, GigaGreen Effervescent Tablets are carefully crafted to be gluten-free and GMO-free. We are committed to delivering a high-quality product that meets stringent quality standards.
Yes, GigaGreen Effervescent Tablets are gentle on the stomach and can be taken on an empty stomach. They are designed to promote easy absorption of nutrients for maximum benefits.
Absolutely not! Gigagreen is a whole food multivitamin crafted with a difference. Unlike synthetic vitamins, our effervescent tablets are derived solely from farm-fresh veggies, ensuring a natural and safe supplement. Rest assured, Gigagreen has no side effects whatsoever. However, please remember that it should not replace a healthy diet but rather complement it for optimal results.
If you're looking to prioritize your health, Anisue Giga Green is the way to go; it's a green nutrient powerhouse that's transformed my wellbeing.
Anisue Giga Green has become my goto green vegetable juice, which keeps my stomach and immune system healthy.
Anisue Giga Green has made healthy living easier for me; it's my green support system for a thriving gut and unbeatable immunity.
Mere paas Anisue Giga Green hai, jo mere sharir ko har jaroori green nutrient se bhar deta hai, aur mujhe rozgar karta hai aur mujhe bimariyon se bachata hai.
Anisue Giga Green filled my body with every green nutrient and also boosted my stomach and immune system!